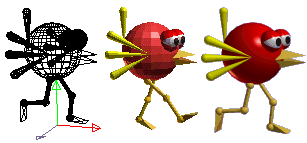 Anim8or 0.9
Anim8or
è un piccolo programma
gratuito
(meno di 1MB!) per l'animazione e il modeling 3D. Non ha le pretese di software commerciali come
3ds Max
o
LightWave 3D
, ma è sicuramente da provare!
Ecco le sue caratteristiche:
3D Modeler - Create and modify 3D models. Built-in primitives such as spheres, cylinders, platonic solids, etc.; mesh-edit and subdivision; splines, extrusion, lathing, modifiers, bevel and warps,
TrueType font support - 2D and 3D extruded text for any TrueType font.
OpenGL based real time operation,
Import and modify .3DS (3D Studio), .LWO (Lightwave), and .OBJ (Wavefront) object files,
Export .3DS files,
Built in 3D Object browser,
Jointed character editor,
Morph targets,
Anti-aliased software renderer for high quality, production quality images,
Create 3D scenes and animations and output .AVI movie files, .JPG and .BMP images,
Supports textures, bump maps, soft shadows, spotlights, fog, and much more,
Texture support for .BMP, .GIF, and .JPG format files,
Print images of scenes and models.
Possiamo scaricare il
manuale
, vedere le
note di rilascio
relative alla versione 0.9, e leggere diversi
tutorial
(tutto in Inglese).