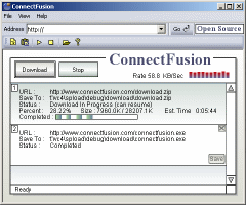 ConnectFusion 1.0

ConnectFusion è un nuovo download manager completamente gratuito e ricco di funzioni, ecco alcune caratteristiche:
Accelerate downloads for different types of Internet connections - dial-up, cable, DSL / ADSL, satellite, T1, etc.

Supports simultaneous connections. Up to 8 connections for the same file. This method will speed up your downloads significantly. Stop and resume broken downloads. Recover from a dropped Internet connection.

Does not interfere with the default behavior of web browser.

Supports batch downloads from the Internet. Perform batch downloads by queuing multiple files and leaving your system totally unattended.

Drag & drop features. Drag a link into ConnectFusion to download. Drag a file from ConnectFusion into a folder to save.

Well designed interface. Compact, Stable and Easy to use.

Totally free. Never expires. No spyware. No advertisement.

Open Sourced. Inspect the code and compile it yourself for the ultimate peace of mind.