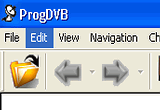 ProgDVB 4.76.3
ProgDVB
consente di guardare TV e ascoltare radio via Satellite usando schede DVB-PCI con decoder hardware e SAT-dish.
Al momento, le schede supportate sono:
Aver DVB-S
BroadLogic 2030/1030
Netcast DVB
Pinnacle PCTV Sat (driver >=260)
Sky Star 1 (Nexus) (the driver 2.x from TechnoTrend)
Sky Star 2 USB or PCI (the driver 4.22 and is higher)
Telemann Skymedia 300 DVB (not official)
TwinHan compatible (VisionDTV,Power Color,INCA Digital Tv,Chaintech,...)
WinTV NOVA (Budget) USB or PCI
Besides work in absence of a card is possible, for example for viewing video of files or as the broadcast client.
Per le SkyStar c'è questo avviso:
Before starting the ProgDVB software - make shure you have SkyStar1 properly installed. It will be better use IRQ11 or 12 (not shared with others devices). And in the Network's Option of your PC - Virtual Adapter need to be also configured with TCP/IP. Of course it is more better to use the new drivers from Techno Trend v2.09 or 2.10.