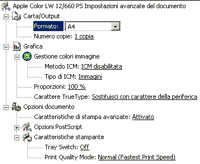 BullZip PDF Printer 6.0.0.695
BullZip PDF Printer
crea una stampante virtuale in grado di creare documenti in PDF da qualsiasi applicazione. Le sue funzioni:
Print to PDF from almost any Windows program.
Supports 64-bit operatings systems.
Direct output to the same file each time or prompt for destination.
Control if the printer should ask if you want to see the resulting PDF document.
Control output and prompts programmatically.
Setup can run unattended.
Graphical user interface.
Password protect PDF documents.
128/40 bit encryption.
>Quality settings (screen, printer, ebook, prepress).

Set document properties.
Watermark text, size, rotation, and transparency.
Supreimpose/background documents.
Appending/prepending documents.
User interface control.
Command line interface to all settings.
COM/ActiveX interface for programmatic control.
Support for Citrix MetaFrame
Support for Windows Terminal Server
Multiple output types supported: BMP, JPEG, PCX, PDF, PNG, and TIFF.
E' richiesto
Ghostscript
, che viene scaricato ed installato, nella versione Lite, durante il setup di Bullzip PDF Printer.
Disponibili una
guida
per l'utente, e lo
storico
del programma.