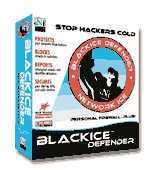 Nuova versione del firewall, forse più famoso, recensito a suo tempo da Casper, che a seguito di nuovi bachi scoperti ha subito un aggiornamento radicale.
Di primo acchito potrebbe sembrare identico alla versione precedente, ma da un analisi approfondita, vi sono notevoli migliorie, che riguardano:


- New Features Added
- Two new tabs in the BlackICE settings for application and communications control
- Control the execution of applications on the computer
- Control what applications can or can not communicate to the internet.
- Baseline your system files and monitor for changes

New application and communication events in the events list.

Visita e scarica ..