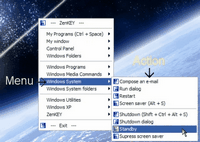 ZenKEY 1.7.2
ZenKEY
permette di controllare molti aspetti del PC con tastiera e mouse; con combinazioni che funzionano qualsiasi programma si stia utilizzando, si potrà:
Launch a program or bring it back into focus
Open a document, folder or Internet resource
Minimize or maximize a window
Resize, move or alter a window
Issue a Media command, such as play, pause or volume up/down
Start your screensaver or shutdown your computer
Access hidden Windows utilities
Control Winamp or compatible media players (we love QCD Player!)
Instantly display any menu of programs or actions at the mouse pointer
Launch other programs automatically on ZenKEY startup
Simulate a series of keystrokes
Mediante l'utilità di configurazione, è possibile aggiungere programmi, aggiungere o modificare menù e assegnare nuove combinazioni di tasti e mouse.
Disponibile lo
storico
di ZenKEY.
| | | |
| --- | --- | --- |
| | Più info | ZenKEY |
| | Sistemi operativi | Windows 98/ME/NT/2000/XP |
| | Licenza | Freeware |
| | Download | ZenKEY 1.7.2 [2,69 MB] |