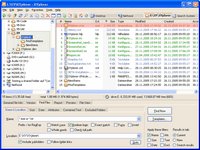 XYplorer 4.40.0082
XYplorer
una nuova versione per questo file manager, molto interessante; permette di visulaizzare in stile Explorer informazioni dettagliate sui file, oltre a implemetare una ricerca avanzata e l'alteprima per moltissimi tipi di file; ma le feature sono davvero molte:
Tabbed Browsing: have an unlimited number of browsing tabs, individually customizable and remembered between sessions, including revolutionary Finding Tabs (shortcuts to fully customizable search tasks).
Tabbed info panel at the bottom containing General File Info, Version, Find Files, Report, Preview, and File View. The panel can be easily shown/hidden by pressing F12.
Highlight! More visual grip folder tree and file list. Highlight Folder, Boxed Branch, Favorite Folder Bold, Highlight Focused Row, Highlight Sorted Column, and wildcard-configurable Color Filter for list items. All colors are fully customizable.
Some extra grip for long lists: the grid. Again, colors are fully customizable.
Thumbnails of image files right in the file list. With "Mouse Down Blow Up" functionality. Formats: gif, ico, jpg, png, bmp, tif, psd, wmf. Optionally the pixel dimensions are shown below the thumbnail.
MP3 Info Tips: a very powerful feature for MP3 fanatics: scan thru your ID3-tags at the speed of light on mouseover, ie without moving one finger!
Report Tab with CSV support One click from XYplorer to Excel.
Extended Context Menu: mass rename files, incl. various ID3-tag to MP3-filename formats.
Time-stamping of Created Date, Last Modified Date, and Accessed Date: simply click and edit the dates.
Size Display Formats: display schemes can be defined and stored separately for browse mode and find results mode.
Icon extraction: scroll through embedded icons.
Have your interface in any font family and font size you want.